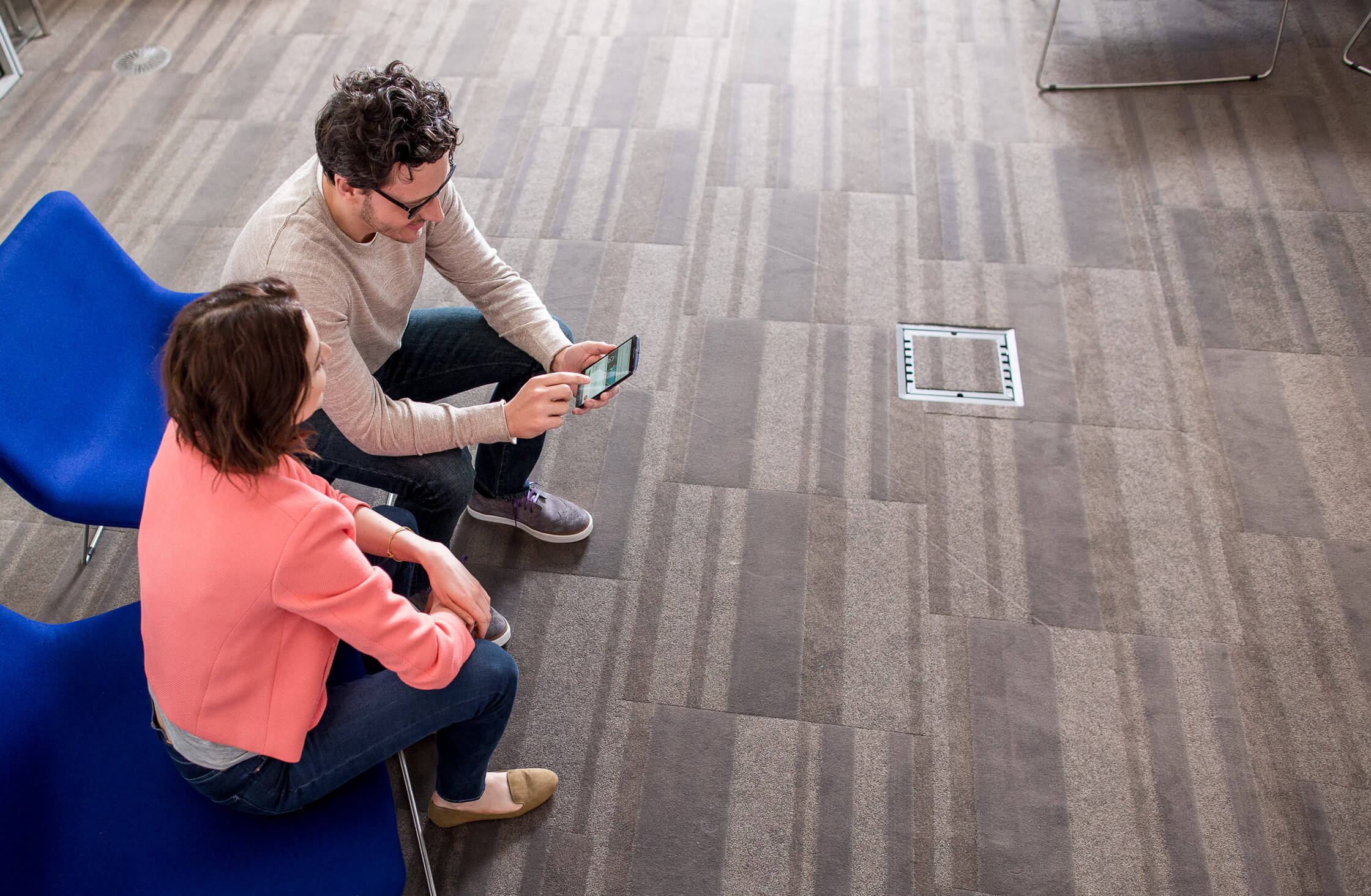 Powerful security, built‑in
Android provides multiple layers of security,
powered by Google intelligence
Security for every threat
Android provides multiple layers of security to prevent intrusions and recover quickly so you can be confident your work data is safe.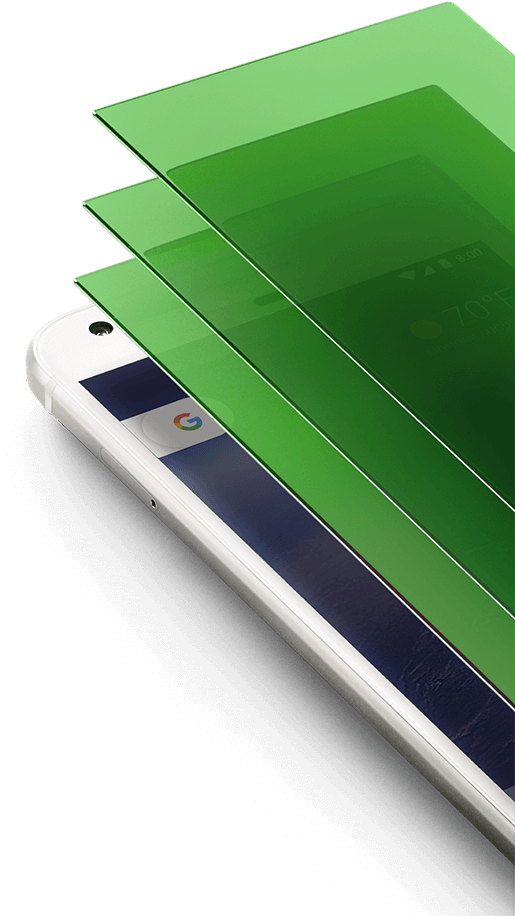 Google Play Protect

Always‑on app analysis, scanning, and removal.

Management APIs

EMM enforced policy controls.

OS Platform

Hardened platform security ensures device and data integrity.

Hardware

Dedicated secure hardware elements carry out the most critical tasks.
Enforce IT policies to keep data secure
Android offers a wide-range of management APIs that allow IT to prevent data leakage and enforce compliance. Admins can enforce network configurations and apply policies to protect corporate data. IT can also deploy a work profile to create an OS level separation between personal and company data.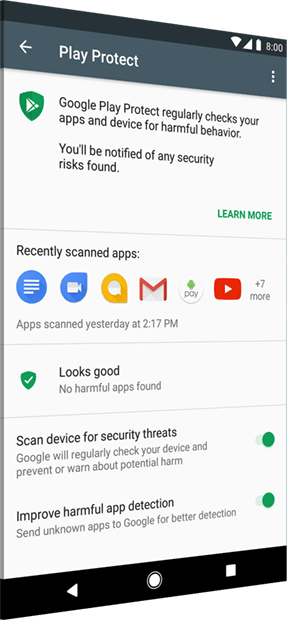 Mobile threat detection service
Google Play Protect delivers built-in, always improving protection to keep your apps and information safe. Powered by Google machine learning, the service scans all apps on the device daily, and blocks harmful apps from reaching the device. Google Play Protect can even give IT an early heads up if their internally developed app contains a known vulnerability.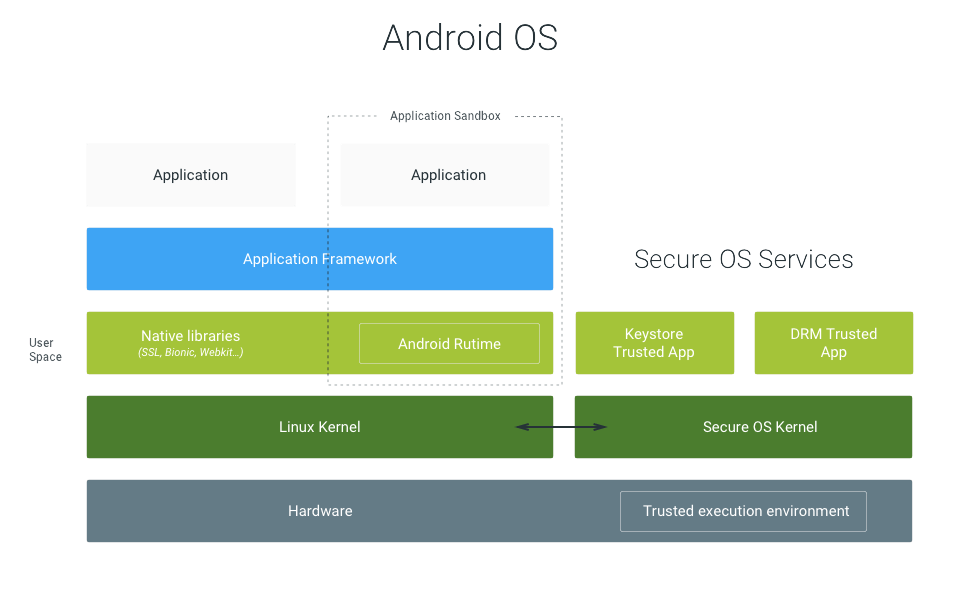 Robust built‑in platform security
The Android platform utilizes app sandboxing to isolate apps, enforced by SELinux. The OS establishes a chain of trust and utilizes cryptographic methods to ensure the hardware and platform have not been compromised with verification available through the SafetyNet API. Encryption is on by default for compatible devices, protecting data until it's accessed by its rightful owner.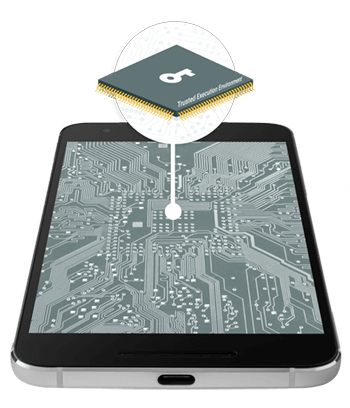 Hardware‑backed security
Android devices utilize a trusted execution environment (TEE), to run privileged or security-sensitive operations such as PIN verification and Verified Boot. In Android Oreo, we've just added tamper-resistant hardware support for even greater protection.
Keep up to date with monthly security patches
Google issues monthly security patch updates for Android to device makers, ensuring they have the capabilities to fix vulnerabilities that are discovered in the OS.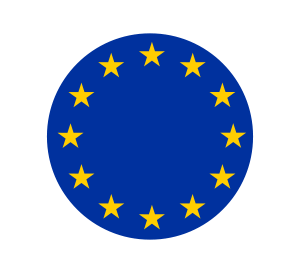 Android and the EU General Data Protection Regulation (GDPR)
Smart devices routinely handle sensitive data for both companies and individuals. Google is committed to data protection and complying with the EU General Data Protection Regulation (GDPR) for enterprise deployments for Android, Google Play, and other mobile services.